Zimmer Biomet and Apple have co-developed mymobility™, an Apple Watch app designed to facilitate connection between hip and knee replacement patients and their surgical care teams. We believe that the announcement is indicative of forthcoming multi-industry digital health collaborations and products that will seek to shape orthopaedic care—primarily hip and knee reconstruction.
Patients with the mymobility app and an iPhone can receive pre- and post-op education and therapy reminders, while their surgeons can monitor continuous data, such as activity levels.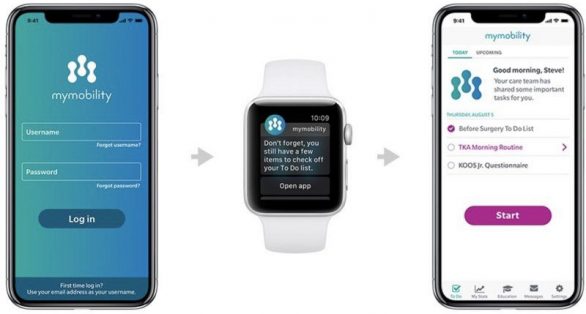 In conjunction with the app, Zimmer Biomet commenced a U.S. clinical study to investigate mymobility's impact on patient outcomes and overall patient costs. Up to 10,000 enrollees could participate in the study, which spans four medical academic centers and dozens of hospitals and ASCs. Zimmer Biomet will use subject-reported feedback from the study, along with continuous health and activity data from Apple Watch, to glean new insights into the app's ability to impact the standard of care.
How patient engagement with technology will affect future healthcare decisions is a shared interest of a diverse group: device companies like Zimmer Biomet, orthopaedic surgeons, patients, tech giants like Apple and Google, and of course FDA.
Based on the orthopaedic products already on the market (more on this later) and FDA's commitment to a streamlined regulatory pathway, we expect to see a broadening interest in digital health initiatives from companies in coming years.
For example, we expect some companies will find the non-regulatory route attractive. mymobility did not require FDA clearance. FDA only regulates mobile apps if they diagnose, cure, mitigate, treat or prevent a disease and pose some risk to public safety. These instances include an app that transforms a mobile platform, such as an iPhone, into a regulated medical device with an existing medical device product code and apps that display, transfer, store, or convert patient-specific medical device data from a connected device.
We also expect that some companies will find FDA's apparent embracement of digital health of interest, and will extend their portfolios to artificial intelligence (AI), apps and digitally-connected wearables and implantables. For example, just one month after submitting clearance requests, FDA granted de novo classifications for two Apple Watch apps used to identify irregular heart rhythms.
What do we mean by FDA embracement? In September, FDA released a statement that reaffirmed its commitment to digital health, saying that it "encourage[s] greater development and innovation in the digital health space" and will continue to roll out guidance on medical device approaches to apps, cybersecurity, interoperability, software and telemedicine. This sentiment is in line with previous comments made by FDA Commissioner Scott Gottlieb, M.D., when announcing that the agency was implementing a new approach to the review of AI-based medical devices and tools and digital health as a whole.
According to Gottlieb, FDA's new approach to regulating digital health devices is one of flexibility, which is designed to reduce time and cost of market entry. One example is exploring a new paradigm under which a company could market lower-risk products without FDA premarket review, and market higher-risk products following a streamlined premarket review, if the company receives a third-party certification to engage in high-quality software design/validation and ongoing maintenance. For low-risk devices, rather than evaluate each digital health product premarket, FDA would focus on validating the quality of a company's software design and methods for certifying quality and reliability.
In a joint statement promoting digital health initiatives, Gottlieb and CDRH Director Jeff Shuren said that the agency is witnessing a "re-imagination of health care delivery" due to digital advances, and that "health care products on ubiquitous devices, like smart watches, may help users seek treatment earlier and will truly empower them with more information about their health."
Further, FDA called on surgeons during a public workshop in April to discuss the development and regulatory and scientific challenges of orthopaedic Sensing, Measuring and Advanced Reporting Technology (SMART) devices. Notable was a discussion on ways that SMART technologies and associated data translate into better patient outcomes, led by Euan Thomson, Ph.D., Johnson & Johnson's Global Head of R&D, Digital Technology and Advanced Innovation, and a presentation on leveraging SMART technology in clinical studies, led by Dr. Mark I. Froimson, Immediate Past President of the American Association of Hip and Knee Surgeons.
As the regulatory path conceivably gets smoother and easier to navigate, and more of the population seeks digital tools to track their health, we expect the field of apps and wearables that collect data and address the patient's experience will expand. Additionally, as is evident by the Zimmer Biomet/Apple example, tech companies may seek to collaborate with orthopaedic companies that possess major market share, while orthopaedic companies may look outside the industry for technical and consumer expertise.
It's no surprise that recent orthopaedic products to incorporate digital components focus on hip and knee reconstruction—high volume procedures being scrutinized pre- and post-operatively at the payor and hospital level. And, again, there's no surprise that there's breadth in the complexity of the products from non-regulated apps to regulated wearables.
We reported four of these announcements in 2017:
Breg introduced Flex, which offers a suite of mobile solutions to support and improve hip and knee patients' at-home recovery.
Consensus Orthopedics launched TracPatch, a wearable device offering real-time, continuous post-surgical remote patient monitoring.
Corin launched RPM, a patient-involvement app that allows surgeons to track pre- and post-operative performance.
Johnson & Johnson Health and Wellness Solutions introduced Health Partner digital tools to prepare patients for hip or knee surgery.
In 2016, Zimmer Biomet launched Signature Solutions, an integrated clinical service and technology suite that includes digital pre- and post-op patient education and assists care providers in the transition to value-based healthcare models. The launch of mymobility, which is not associated with Signature Solutions, demonstrates that Zimmer Biomet believes leveraging various digital health initiatives is imperative as a leader in the hip and knee market.
Image courtesy of Zimmer Biomet, Inc. This article originally appeared in BONEZONE October 2018.