The U.S. hospital landscape steadily continues to be shaped by consolidation that is forced by competition, declining reimbursement and public and private payor cost and control measures. As these trends are expected to endure at least through the next decade, it's imperative that you understand what your hospital customer base will look like several years from now. Could your hospital customers be purchased? If yes, by whom? And what will be their priorities?
In preparing for the American Academy of Orthopaedic Surgeons' Annual Meeting, we sought perspective on the shifts taking place at U.S. hospitals and found it in L.E.K. Consulting's 2016 Strategic Hospital Priorities Study. Each year, the company interviews 150 to 200 hospital administrators to help medical device companies capitalize on the needs of those administrators. While the study looks at hospitals and medtechs in general terms, two trends that it identifies—outsourcing and alternative payments—are highly relevant to orthopaedics.
Before we get to those trends, let's look at two other findings: hospital priorities and size.
Not surprisingly, quality and patient satisfaction topped hospital administrators' priority lists. (See Exhibit 1: Pressing Hospital Needs.) Specific needs within that category include reductions in medical errors and re-admission rates, and improvements in patient satisfaction, infection control and performance on quality metrics. These are all topics discussed within these pages in recent years, but this warrants repeating, because they are needs that remain top of mind for hospitals.
Exhibit 1: Pressing Hospital Needs
(Click image to view full-size)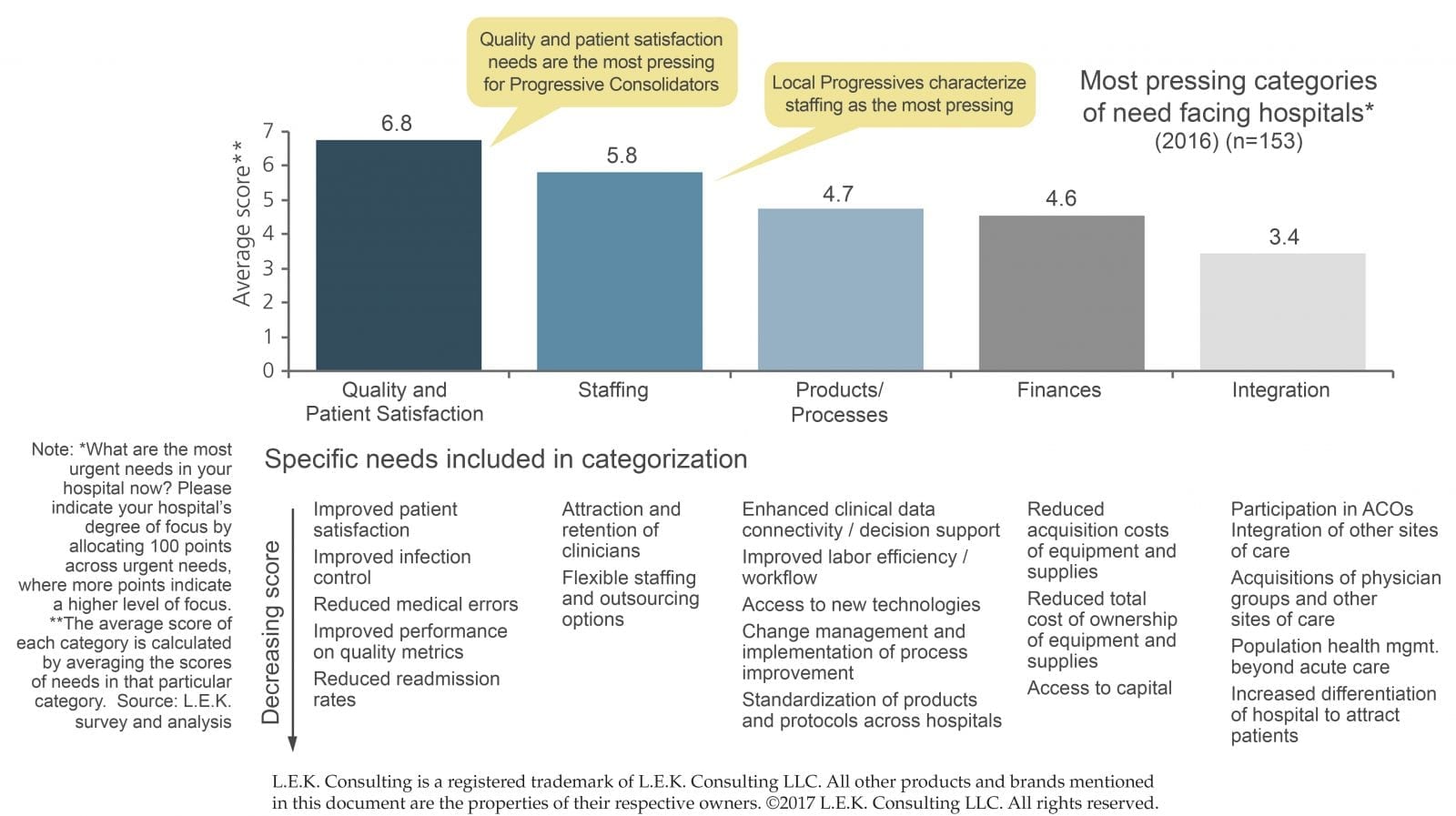 The study segments hospital systems into four categories.
Local traditionalists: largely standalone hospitals; represent 41% of hospitals and 25% of total spending
Progressive consolidators: mainly large systems not bounded by geography; represent 33% of hospitals and 35% of spending
Local progressives: largely academic medical centers; represent 13% of hospitals and 35% of hospital spending
Hospital aggregators: mostly large for-profit systems that represent 5% of hospital spending
Pay attention to the progressives because, by 2020, L.E.K. researchers project that progressive consolidators will continue their strong growth trajectory and become the leading market share holders. (See Exhibit 2: Hospital Landscape, 2016 to 2020.)
Exhibit 2: Hospital Landscape, 2016 to 2020
(Click image to view full-size)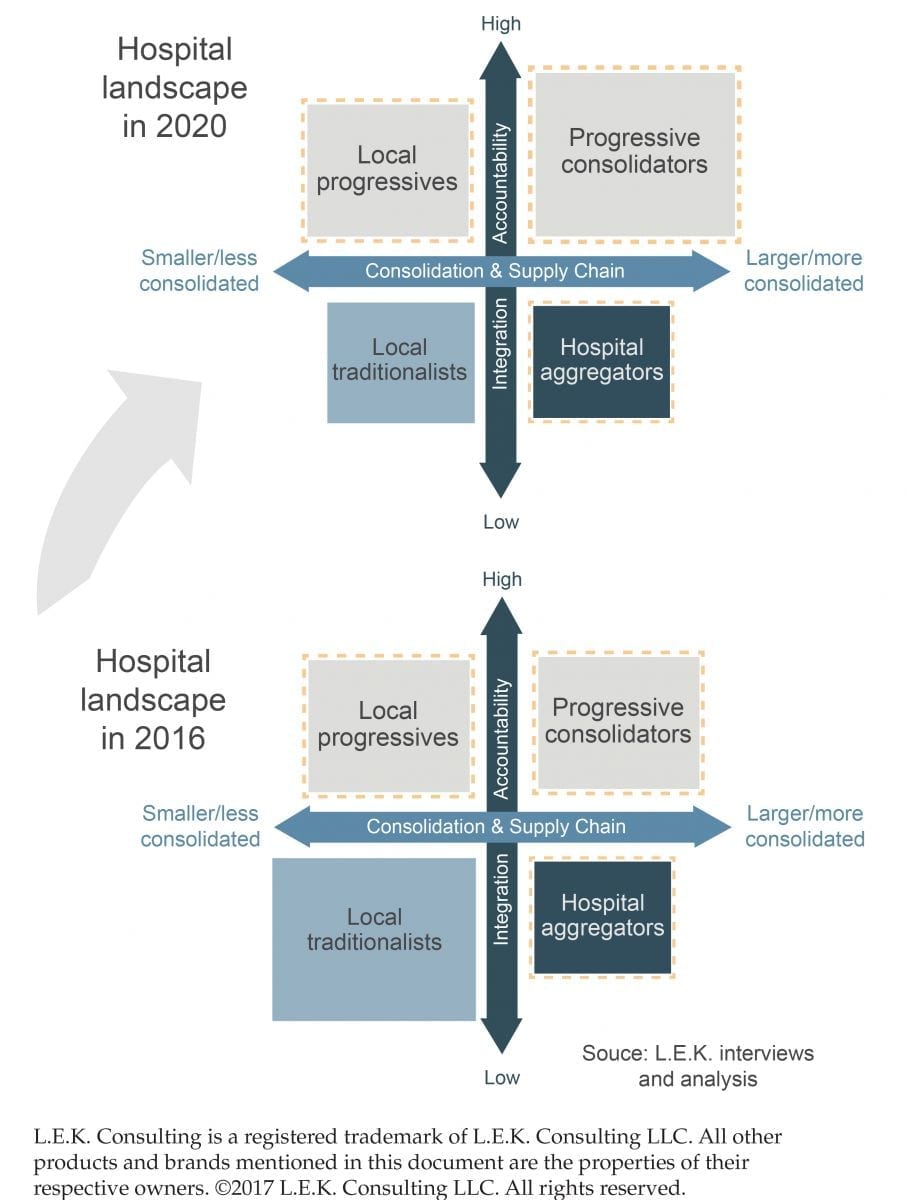 Progressive hospitals stand to be the organizations that 1) scale in size, 2) leverage accountability measures and 3) seek long-term partners to meet their most pressing needs.
"Given the increased focus on integration and accountability, it's perhaps no surprise that a growing number of progressive health systems appear willing to take advantage of third-party services in order to help address their most pressing needs. This is particularly relevant for medtechs looking to broaden their base of business, as it allows them to properly identify players that are more likely to become longer-term partners (as opposed to those more focused on transactional relationships and relative pricing)," the study states.
In short, orthopaedic device companies seeking to capitalize on the trends of outsourcing and alternative payments would be best suited to target progressive hospitals. These two themes are greatly intertwined with quality and patient satisfaction. Hip and knee reconstruction have been the priority orthopaedic markets for these two themes, largely due to the Comprehensive Care for Joint Replacement (CJR) initiative. Companies of all sizes and in all markets, though, should consider their roles in these hospital priorities as a way to get a seat at the purchasing table, says Monish Rajpal, Managing Director at L.E.K.
---
Outsourcing
L.E.K.'s study found that outsourcing is on the rise for various initiatives, from supply chain management to inventory management to infection management to IT. Two areas of note: first, the study mentioned continued emphasis on data collection/transfer in order to improve both clinical and non-clinical decision making, and second, hospitals—mainly progressives—indicated their likelihood to partner with medtechs would increase by 50%.
"With the onset of episodic payment models like CJR in orthopaedics, there is more of a need at hospitals to help them align across settings, and especially post-acute care, to measure, improve efficiencies, gain transparency, as well as improve coordination and management of hand-off, optimally manage data and connectivity, drive patient behavior across settings and really customize care from a cost perspective to the risk of the patient," Rajpal says. "Some hospitals can do these things to a certain extent, but most hospitals can't do them on a large scale. There is an opportunity for more sophisticated orthopaedic companies to start filling that void and helping in those particular areas, whether through packaged offerings or customized offerings."
Again, this is not a new topic discussed within these pages. We spent much of 2016 recapping the largest orthopaedic companies' jump into healthcare delivery support and the need for companies to reach further into the value chain. As you prepare to meet with your surgeon customers at AAOS, it bears repeating that they and their administrators are increasingly interested in device companies providing a range of services and assistance.
The top five areas in which hospitals perceived value of potential medtech services were equipment service, support and managed services; education, training and compliance; product acquisition and supply chain management; clinical IT and analytics; financial and capital services.
"The fact that service solutions are here to stay is quickly becoming the accepted practice," Rajpal says. "For larger companies that are highly relevant, visible and at-scale, it is imperative to explore how to position and participate."
---
Alternative Pricing Models
A second trend that the study identified was an increase in interest surrounding outcome-based pricing across the medical device spectrum. The areas of highest interest included high-cost items, such as medical capital equipment and medical/surgical disposables.
Talk of alternative pricing in orthopaedics has been around for years. One reason that device companies routinely say these contracts aren't signed off on is the inability for the hospital to accommodate or accept the model, a trend that was identified in the survey.
Rajpal says that alternative pricing remains in infancy.
"I don't see a convergence around one or a set of models at this point," he says. "There are a few models in the market. Straight warranties—some companies are doing that now. There are other models based on outcomes, quality and cost…It's unclear as to how much that has been picked up by hospitals, but it's a pricing model you see discussed more in the market. There are a number of variables that need to be thoughtfully and carefully addressed, and often in a bespoken fashion. There are also practical difficulties that have limited and slowed the evolution of business models in this direction. But we are seeing an increased appetite to discuss this. It gets you to the table with your customers, and the learnings from discussions and pilot models are going to be invaluable as we see this trend strengthening in coming years."
In recent earnings calls, executives have remarked on progress around risk-sharing. Zimmer Biomet President and CEO David Dvorak said that the company's deeper risk-sharing conversations have occurred with large academic institutions (local progressives) and incorporate end-to-end management of episode of care.
Speaking of Medtronic's knee line, Geoff Martha, Executive Vice President and President of the Restorative Therapies Group, said, "The early interest that we are seeing is strong from surgeons that have skin in the game and we are seeing demand, that's for the knee. And then for hospitals, there is a lot of interest around these. We are sharing partnerships, but it's new to them and these are complex agreements that are taking a little bit more time, but we are feeling bullish about this…These risk-bearing partnerships [are] really the centerpiece of the offering."
NuVasive CEO Gregory T. Lucier said that the company is experiencing success with procedural pricing. The hospital is offered a fixed price. If more products or goods are required than stated for the surgery, NuVasive eats the price. If less are required for the procedure, NuVasive will benefit.
"What the customer, the hospital, gets in this case is predictability," Lucier said. "Given our knowledge of the surgeries and variation that you see in patients, we feel very good on an actuarial basis to be able to provide that type of payment or procedural payment…We're going to see a lot more of those models in the future, and we like that. We think that creates more separation between us and for sure a lot of the smaller spine companies."
Size, and therefore resources, gives larger companies an advantage to enter into these agreements. Smaller companies shouldn't be deterred from considering purchasing arrangements, as they could open more doors to reach purchasing committees, Rajpal says.
The industry's largest players will continue to talk about episode of care tracking and risk-sharing models with large, progressive systems. Smaller companies still stand to benefit from device innovation that focuses on hospital priorities, whether it be infection prevention, operating room or supply chain efficiencies, etc., as well as entry into market segments and facilities, whether that be hospitals or ASCs, with strong surgeon preference.
As the hospital landscape shifts, you need to determine how to best position yourself and your products. The power in knowing the needs of different types of hospitals, as well as their vulnerability to acquisitions, allows you to decide who you should target.
"We think there is a shift in business models that is underway. Now if you have a product that is innovative or niche and there isn't competition for it—if it's differentiated in one way or another—then there's probably a fair bit of runway," Rajpal says, considering whether or not companies, including smaller or mid-sized ones must embark on these services to stay relevant, or whether such companies can still afford to stay focused on a traditional approach to their business. "So if you're not in a category that is on the radar for standardization or cost cutting, but rather a category where, say, physician preference is still paramount, you may for some amount of time continue to function in ways not too dissimilar from the past. That could change, but if that is a risk you're willing to take, then perhaps you're okay with your current focus.
"However, we do think that it's in the interest of medical device companies to explore and understand this shift, whether those are solutions or alternative pricing models or starting to look at the world through a more patient-oriented, patient-journeyed or disease-area focused perspective. All of those are increasingly important for companies to consider. That doesn't mean that you're going to stop innovating on technologies, but it does mean that you should try to take that additional lens into the market, because you know your competitors will."
Monish Rajpal is Managing Director at L.E.K. Consulting. He can be reached by email.
Carolyn LaWell is ORTHOWORLD's Chief Content Officer. She can be reached by email.