Orthopaedic device manufacturers' ability to gain market share in the total knee and hip reconstruction spaces will be dependent upon their response to the shift of procedures to ambulatory surgery centers, an uptick in bundled payments and any or all measures focused on cost. This was the message that we took away from our conversations at the American Academy of Orthopaedic Surgeons Annual Meeting (AAOS).
We know that the narrative is repetitive. Of note, though, is that companies were no longer talking as if these initiatives are in the future. The messaging around launched products, whether backed by data or not, is that the new products must correlate to better patient outcomes and more efficient (quicker, less expensive) procedures.
Companies see solutions differently—robotics, additive manufacturing, materials, surgical techniques and software. We expect that the answer will be a combination of these ideas that is well-executed-upon by companies.
New research released by AAOS indicates opportunities for companies that are well positioned to respond to market forces. Based on a linear regression model, researchers at the University of Pennsylvania found that growth predictions for U.S. knee and hip replacement and revision are higher than models that use exponential growth. The findings included:
U.S. procedures per year by 2030
Primary THR to grow 171% to 635,000
Primary TKR to grow 189% to 1.28 million
Revision THR to grow 142% to 72,000
Revision TKR to grow 190% to 120,000
U.S. procedures per year by 2060
Primary THR to grow 330% to 1.23 million
Primary TKR to grow 382% to 2.6 million
Revision THR to grow 219% to 110,000
Revision TKR to grow 400% to 253,000
More than 100 companies play in the knee and hip reconstruction market, worldwide. Here we recap four conversations from our time in New Orleans to give a partial glimpse at the story. We chose two large players (DePuy Synthes
and Stryker) and two emerging companies (Okani and UOC).
DEPUY SYNTHES
Tim Czartoski, Global Platform Leader Joint Reconstruction
We met with Czartoski to discuss the recent acquisition of Orthotaxy, a company in early stages of development of a robotic assisted surgery solution for total and partial knee replacement. The acquisition demonstrates that DePuy Synthes, like Smith & Nephew, Stryker and Zimmer Biomet, believes that is the future of orthopaedics.
Czartoski was scarce on details and did not provide a timeline for product launch, other than within the next couple of years. Here is what we know:
The robot is expected to have a small footprint. I was told that standing at exactly five feet tall, I could "pick up the robot" and move it to another OR.
DePuy Synthes expects the technology will have broad application across orthopaedics, in time.
In considering a system, it had to have specific elements: small footprint; portable and cost effective, including procedure-time-neutral and reduction of instruments.
"To be successful in the robotics category, we believe there are certain fundamentals that need to exist that are lacking in the marketplace today," Czartoski said.
STRYKER
Edgar Gil, Director of Hip Marketing
Stryker launched the Trident II Acetabular System, based on the company's additive-manufactured Tritanium In-Growth Technology and compatible with the Mako Robotic Arm. Trident II represents the company's first additively-manufactured hip.
More than 6,000 of the cups have been implanted since the system received FDA 510(k) clearance in October 2016. Gil said that Trident II has a thin cup, which allows for a bigger head, driving stability. Surgeon feedback thus far has focused on good initial fixation.
We estimate that Stryker's 2017 hip revenue was $1.4 billion, up 1.7% vs. 2016.
Gil noted that the hip market was soft in 2017. "I think this product will give us a shot in the arm. The market is ripe for a new product. I think the market is starting to understand the benefits of additive," he added. "The stability we're able to offer, with the bigger head and smaller cups, will allow surgeons to see how much this is different than other implants in our portfolio."
Smith & Nephew, NextStep Arthropedix and Beijing AK Medical are among other companies with additively-manufactured hip reconstruction products on the market.
OKANI MEDICAL
Zhonglin Zhu, Chief Technology Officer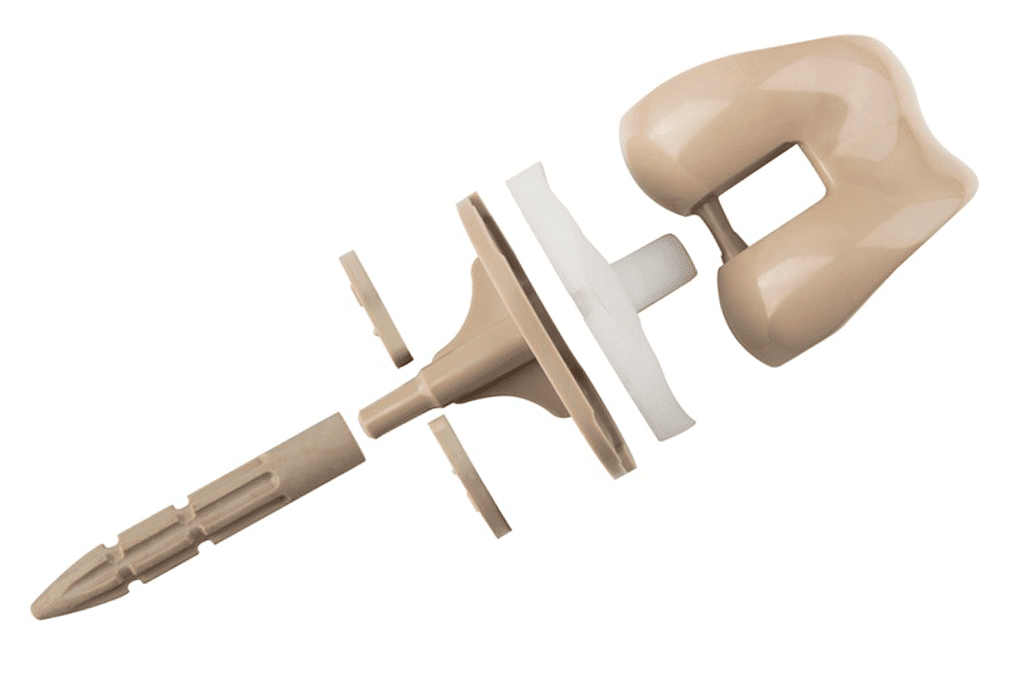 Chinese company Okani Medical has developed ORGKnee (image at right courtesy of Okani Medical), a polymer knee implant based on Zeniva PEEK material from Solvay. The entire knee is made of PEEK, with the exception of the XLPE bearing surface. The ORGKnee is designed to offer a longer implant life at a lower cost than traditional metal systems. Study findings presented at the Orthopaedic Research Society meeting indicated that the device exhibited 50% less wear vs. a metal implant, measured by material loss over 3 million cycles.
Okani is expected to enter pre-clinical trials in 2Q18, to be followed by standard trials in China by the end of 3Q18, with product launch planned for 2020.
Zhu said that the company expects ORGKnee to be competitive not only on strength, but also on cost, due to its manufacturing process. "The cycle time of each PEEK component is approximately nine seconds, which is obviously very fast," he said. "The effective time to produce the entire implant is reduced from several months down to hours/days."
Okani is not the only company seeking to enter the knee reconstruction market with PEEK materials. In 2016, Maxx Orthopedics announced that it was partnering with Invibio to develop a PEEK-Optima femoral knee replacement.
UNITED ORTHOPEDIC CORPORATION (UOC)
Calvin Lin, President, UOC USA
An established company in Asia for 25 years, UOC founded its U.S. subsidiary in 2012. With the launch of two new hip products in the U.S. in 2018, we met with Lin to ask his perspective on the health of the U.S. hip market.
First, UOC launched its UTS Hip Stem and an extension to its U-Motion II acetabular system. The hip stem is shorter and ideal for the direct anterior approach to total hip reconstruction, providing a less invasive surgery. The U-Motion II extension is a 50mm acetabular cup and cup liner with a 36mm femoral head. The launches are in direct correspondence to two of the main challenges present in today's hip market: reducing dislocations and developing technologies for outpatient or rapid recovery surgery, according to Lin.
UOC USA expects that its focus on OR-efficient products (its primary knee includes a 1.5 tray system), competitive pricing (all of its manufacturing in-house) and a full portfolio of products will assist its growth in the U.S. market. Slated for 2019 are a dual mobility hip cup, oncology system and potentially, a future outpatient surgery program.
Regarding the health of the hip and knee market, Lin noted that "it's definitely growing 3% to 5% and stable volume-wise…It's a growing market everywhere, not only in the U.S., China and India…We just need to catch it."
Carolyn LaWell is ORTHOWORLD's Chief Content Officer. She can be reached by email.

Did You Miss These Announcements?Dozens of product announcements were made during AAOS, from patents to clearances to launches to data collection. Here, we summarize other announcements in the total hip and knee space that caught our eye.

Summarized registry data indicates that patients treated with the ConforMIS iTotal CR knee experienced a cumulative revision rate of 0.5% at four years vs. a 1.9% rate for all TKR patients.
Corin launched the Trinity™ Dual Mobility hip system, designed to support a wide range of motion and a reduction in instability/dislocation.
Corin launched the Unity Knee™, featuring EquiBalance™ instrumentation for ligament balancing and soft tissue preservation.
DePuy Synthes commenced U.S. launch of the ATTUNE® Revision Knee, available in fixed bearing and rotating platform options.
DePuy Synthes commenced U.S. introduction of the ACTIS® Total Hip. In global limited launch to date, ~11,000 units have been implanted; the system will continue rollout throughout 2018.
Medacta and Geisinger are launching a pilot program to provide a Geisinger Health Plan member with lifetime coverage for future surgical care and costs following total hip replacement.
Medacta launched the MOTO™ Medial Partial Knee and the MasterLoc LAT PLUS wedge stem.
MicroPort Orthopedics marked 20 years on the market with the Evolution® Medial-Pivot total knee. The device has been implanted in >550,000 patients since launch in 1998.
Smith & Nephew commenced full release of the JOURNEY™ II XR bi-cruciate retaining total knee in Japan and the U.S.
WishBone Medical entered into a license agreement with the Hospital for Special Surgery to develop a Pediatric Total Hip.
| | |
| --- | --- |
| Left: Trinity Dual Mobility Hip  —  Middle: JOURNEY II XR —  Right: ACTIS Total Hip | |