The arthroscopy/soft tissue segment reached sales of $4.5 billion in 2015, a four percent increase over 2014, according to ORTHOWORLD estimates. It remains the smallest segment in the orthopaedic industry, but is expected to maintain the highest rate of growth, at four percent year over-year through 2020.
Arthrex and Smith & Nephew, the two market leaders, combined hold more than 50 percent of segment sales. Both achieved growth higher than the segment average in 2015, with Arthrex at 10 percent and Smith & Nephew at five percent. Market shares for the top five players can be found in Exhibit 1.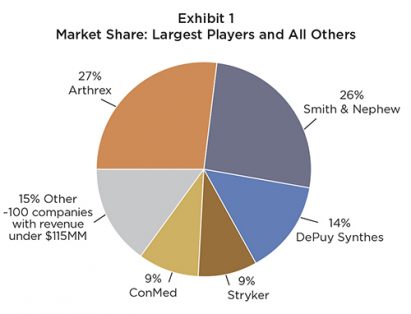 Arthrex continues to report that the company as a whole is experiencing sales growth of 15 to 20 percent each year. The company has entered into multiple collaborations in the last year to bolster its arthroscopy/soft tissue product portfolio, including a co-marketing agreement with Novadaq for use of its fluorescence imaging technology, an extended collaboration with LifeNet Health for allograft implants and an agreement to distribute Vivex Biomedical's various orthobiologics. Arthrex and Vomaris Innovations are also partnered for sales of Procellera Antimicrobial Wound Dressings for orthopaedic and sports medicine applications; the wireless microcurrent technology has the ability to accelerate cellular migration to support healing.
Arthroscopy/soft tissue was the one segment in which Smith & Nephew experienced year-over-year as-reported sales growth in 2015. The company's sales were partially bolstered by the finalization of the ArthroCare acquisition. Smith & Nephew bought ArthroCare for $1.7 billion in 2014, and targeted $85 million of synergies by 2017—$65 million deriving from cost synergies and $20 million from revenue. At 2015 year-end, leadership reported that cost synergies were realized ahead of schedule, and revenue synergies will continue in coming years.
Growth in the arthroscopy/soft tissue market is buoyed by several factors: strength of the main players, smaller players expanding their portfolios to complement other product lines, industry focus and surgeon adoption of minimally invasive techniques and surgeons' push to drive new technologies and techniques in ligament and tendon care and repair.
ORTHOWORLD asked four device companies, ranging from early-stage to large player, what they're hearing from surgeons. They spoke of requests for devices that employ muscle- and tissue sparing techniques and the need to focus on procedures that still present challenges for surgeons, such as care associated with diseases and complex injuries like rotator cuff and meniscus repair.
Companies are responding to these surgeon and patient trends in a number of ways. Some are launching and refining diverse product portfolios to cover a range of procedures, while others are focusing on specific clinical needs.
Two companies called out treatment of the meniscus.
Ceterix Orthopaedics launched the NovoStitch® Plus Meniscal Repair System in 2015, which enables placement of a circumferential compression stitch around the meniscus. The system incorporates a pre-loaded suture implant, intended to ease use and cut the number of procedure steps by more than half.
John McCutcheon, President and CEO of Ceterix, emphasized the importance of repairing the meniscus, rather than performing a meniscectomy, which he noted  is under scrutiny as a treatment for meniscus repair.
McCutcheon is seeing surgeons push to do repairs for more types of injuries that they used to think were irreparable, like radial tears.
"More and more surgeons say, 'Look, we've got to repair everything,' " he says. "More data is coming out that a meniscectomy is not a good thing—payors and providers are paying attention. All of the literature and data shows that [repairing the meniscus] prevents arthritis later and that it's the right thing to do."
Active Implants is also focused on developing alternative treatments for the meniscus. The company's NUsurface® meniscus implant, the first "artificial meniscus" designed to replace one that is damaged or deteriorating, is currently in its investigational stage in two clinical trials, SUN and VENUS, in the U.S.
The NUsurface is designed to be used in patients who had a partial meniscectomy, and now have persistent knee pain, but aren't ready for total or partial knee replacement.
"There's a giant pool of patients who had surgery that didn't yield the result they wanted, and they don't want the next surgery that's available because [joint replacement is] too big," says Adam Klyce, Vice President of Marketing & Communications, U.S. at Active Implants. "This aims to fill that treatment gap. It fits in between the injections/non- operative care and joint replacement."
Klyce says that meniscectomy as a standalone procedure is under attack scientifically and economically.
"Having an artificial meniscus available in the market in a year or two will help to fill that gap. The gap is getting bigger, because the evidence and support for the current index procedure is going down," he says. "If you have a meniscus tear and go to your doctor, and he says, 'I would have done a meniscectomy on the knee, but now, for reimbursement reasons and medical necessity, that's going to be harder to do.' "
Two companies we spoke with mentioned the challenges that rotator cuff repairs can pose for surgeons.
"[Rotator cuff repair] is a great procedure, but we still acknowledge there are way too many revisions and cases that aren't successful," says Scott Schaffner, Vice President of Sports Medicine at Smith & Nephew. "Everyone acknowledges that there's room for improvement. There's an appetite for technologies and techniques that can help with that."
Smith & Nephew emphasized its shoulder repair portfolio, which includes a suture passer, anchor and suture tape for rotator cuff procedures, at the 2016 AAOS meeting.
"It's a host of products that can stand on their own individually, but the way we're positioning them is as a solution that gives surgeons options to address various anatomical challenges or pathologies," Schaffner says. "They can tailor those different tools and combine them as a solution for rotator cuff repair."
Offering a broad product portfolio may serve companies well, says Brian Cole, M.D., a sports medicine and cartilage restoration orthopaedic surgeon at Midwest Orthopaedics at Rush University Medical Center in Chicago, Illinois."
Given the nature of hospital systems, broad product platforms are a potentially dominant strategy amongst device companies versus narrow technology platforms," Cole says. "Those [product platforms] that cross boundaries—not just the device, but things that enable you to use the device—and having technology that surrounds a core device platform, with capital equipment and so forth, can make a big difference. It's difficult to differentiate certain devices based on their own merits, but when you're taking the context of a family of products from a device company, the decisions are made a little differently by the clinical doctors and decision makers as to how that device gets in the hands of a surgeon."
Orthobiologics could be part of that portfolio mix as surgeons seek options to augment the body's natural healing process. However, orthobiologics receive mixed feedback."
Several recent studies have shown that augmenting the single- or double-row rotator cuff repair with bone marrow aspirate, stem cell injections or marrow stimulation can reduce re-tears or reruptures significantly, especially for larger tears," says Lester Fehr, Vice President of Global Marketing & Strategic Partnerships at Arthrosurface.
Fehr is seeing an increased push from surgeons for stem cell-based offerings and implants that are minimally invasive or provide a more anatomic or custom fit.
Arthrosurface offers NanoFx® Microfracture, a biological preliminary treatment for pain relief for patients with early stages of arthritis and/or cartilage damage.
Cole has seen an uptick in the use of allograft to treat cartilage problems and to augment soft tissue repair to treat the inflammatory process related to osteoarthritis. He has also seen an increase in the employment of stem cells.
Based on our surgeons conversations and presentations made at AAOS, there is a lack of consensus and data on the success and potential of orthobiologic solutions in this segment, and therefore a barrier for adoption by surgeons, approval by hospitals and recognition by payors.
As companies continue to launch new products in the segment, one thing is clear, they'll seek products that simplify the surgery and lead to faster patient recovery.
"If there are ways to spare anatomy, we obviously want to do it in the least disruptive way possible," Schaffner says. "There are a lot of wonderful procedures within sports medicine today, but everyone acknowledges the room for improvement."