VGI Medical commenced commercial launch of the VerteLP® Lateral Interbody Fusion system. VerteLP received FDA 510(k) clearance in 1Q16, and alpha launched one month following.
VerteLP is designed to preserve anatomy and avoid interference with previously-placed pedicle screws. Its bilateral plate fixation technique is intended to limit axial rotation and lateral bending.
Other lateral-approach systems in the news include NuVasive's launch of Lateral ALIF, XLIF Crestline™ and Lateral MAS® Fixation and Spineology's introduction of a prospective, postmarket lateral interbody fusion study to assess patient outcomes with the Duo™ Lumbar system.
Sources: VGI Medical, LLC; ORTHOWORLD Inc.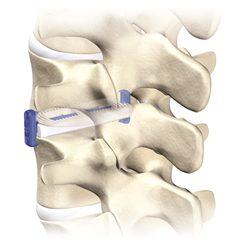 Image courtesy of VGI Medical, LLC