ORTHOWORLD estimates that the knee replacement market grew to just under $9 billion in 2018, a 3.1% increase vs. 2017, as shown in Exhibit 1. We expect this segment to remain a steady performer in the low single digits as price pressure erodes revenue from legacy products, but new technologies and products allow well-positioned companies to drive more favorable sales mix.
Exhibit 1: Knee Sales Performance: Companies with Revenue above $50MM and All Others (USD $MM)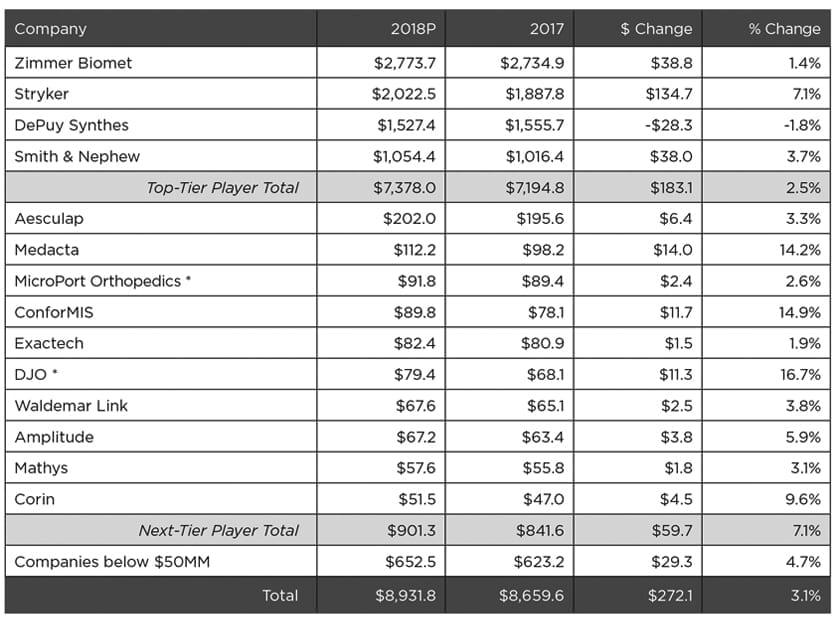 * Projected 2018 revenue
The top-tier companies maintained a 2.5% growth rate in the knee market from 2017, while the next tier players grew more than double the market rate. The top 10 players in the knee market, shown in Exhibit 2, have remained consistent for the last several years. This may mask the fact that the top companies seem to be heading in opposite directions, leading to a potential rank shake-up in the future.
Exhibit 2: Knee Market Share: Top 10 Companies and All Others
Overlaying revenue and percentage growth, as depicted in Exhibit 3, shows that Zimmer Biomet and DePuy Synthes maintain their positions through sheer size. While some smaller knee players, like ConforMIS, have significant percentage growth, their revenue share is relatively small. Viewed through this lens, Stryker and Smith & Nephew are best positioned for the coming year. Indeed, despite the ubiquity of Zimmer Biomet knee procedures, Smith & Nephew CEO Namal Nawana said in regard to taking market share, "I think that for knee replacement specifically, Stryker is number one, and we've also been a very consistent number two, and we've been growing above market overall."
Exhibit 3: Revenue and Percentage Growth 2018 vs. 2017 for Top 10 Knee Companies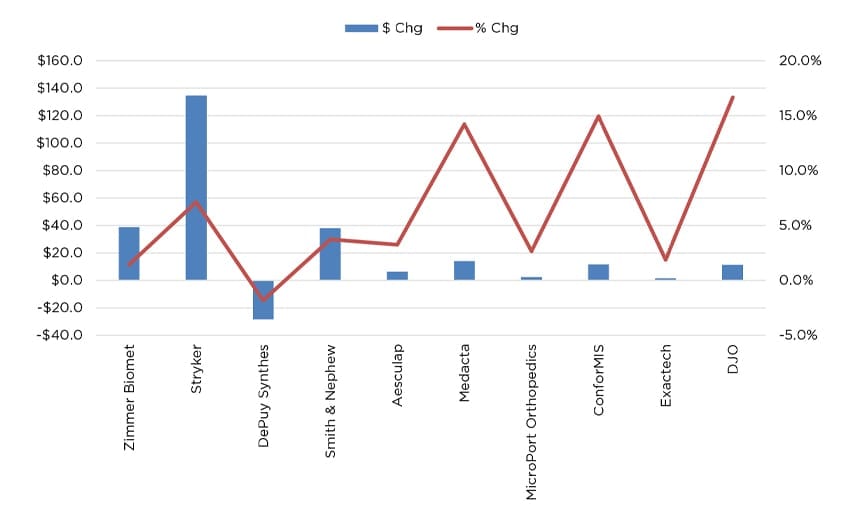 Mr. Nawana attributed Stryker's success to their Mako robot as well as their cementless knee products, sentiments that were echoed by Zimmer Biomet CEO Bryan Hanson during the company's year-end 2018 earnings call. Hanson outlined three factors causing knee share loss for Zimmer Biomet: loss of surgeons to competitors, loss of informed patients to competitive surgeons who use robotics, and competitors increasing revenue through better product mix. Robotics and sales of premium products are closely correlated. Value-adds like robotic technician support and surgical planning help stabilize price, while the robot itself drives higher-end sales like cementless knees. As Mr. Hanson said, "Robotics is one of the biggest contributors to mix benefit inside of the space that we play."
Leveraging robotics requires a robust pipeline of favorable clinical data as well as an effective capital sales strategy. Stryker leads the way in these categories with a growing arsenal of positive studies, over 600 robots installed and a synergized strategy among their capital salesforce, implant salesforce and Flex Financial Group to help get units placed. However, robotic strategies do differ across companies. Zimmer Biomet is targeting high-volume surgeons with their ROSA platform that is aimed at minimizing the disruption to procedure flow. It also seems likely that they will forgo aggressive capital sales in favor of trading robot units for increased procedure share.
Due to the costs associated with developing a robot and the capital outlay required from customers, medium and small companies will not go all-in on robotics. Instead, some smaller companies seek to corner the ambulatory surgery center market, including ConforMIS and Medacta, both of which grew revenue nearly 15% from 2017 to 2018. ConforMIS believes that it can drive growth by providing clinical and economic benefits in outpatient settings. Using their personalized knee implants, the company believes that it can enable healthcare professionals to perform more procedures in a day, thereby increasing daily revenue without the overhead of a traditional inpatient setting. Medacta has emphasized its Propel Same Day Surgery Initiative, which includes single-use instruments and a suite of patient support services.
Outpatient centers are poised to increase volume as patients become more engaged with their healthcare decisions and the related expenses. Centers that can market competitive offerings and patient experiences stand to benefit most from the accelerating trend of knee procedure movement to outpatient settings.
We expect that the 2019 knee market will carry the main themes of robotics and outpatient procedures. Whether focusing on robotics, outpatient centers or both, the most successful knee companies will stay ahead of commoditization and price erosion by strategically upselling differentiated products. As more companies embrace the "closed ecosystem" model of selling that relies on product pull-through across segments, it will be more critical than ever to have a strong portfolio bolstered by an innovative product pipeline able to get products to market.
Mike Evers is ORTHOWORLD's Market Analyst.
For further reading: What knee products have these companies launched to bolster growth, in the last year?
NEW in the Download Zone for ORTHOWORLD Members:
2018 Knee Market Review Data