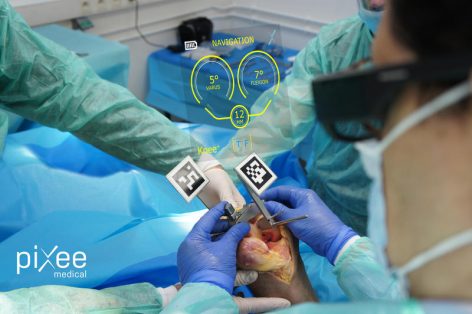 Pixee Medical closed a Series A funding of €2MM (USD $2.2MM), led by Turenne Capital and existing investors, Invest FC and Credit Agricole FC Investissements. The financing will support global commercialization and investments in the company's platform for augmented reality (AR) tools for surgical planning and navigation, including applications in the shoulder and hip.
The company's first patented product for total knee replacement is in the process of obtaining approval under the CE Mark, and FDA 510(k) clearance is expected within 1Q20.
Pixee's software can run on off-the-shelf AR glasses that can be used as stand-alone navigation or be combined with robotic arms.
Mr. Alain Tornier will join Pixee's advisory board. Mr. Tornier is a veteran in the total shoulder arthroplasty market as the former CEO of Tornier, the developer of Aequalis shoulder arthroplasty devices that are now owned by Wright Medical.