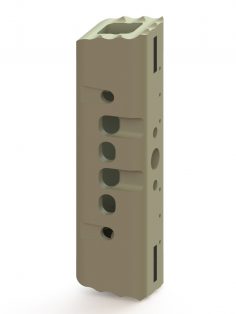 Omnia Medical received FDA 510(k) clearance to market its vertebral body replacement in the thoracolumbar spine. This is reportedly the first PEEK-OPTIMA HA VBR to receive FDA clearance.
The device, manufactured from PEEK-OPTIMA™ HA Enhanced polymer, is the product of collaboration among Omnia, JALEX Medical and Invibio Biomaterial Solutions. JALEX provided product development and regulatory support, while Invibio is the provider of PEEK material.
Early clinical results have demonstrated solid fusion with dense bone apposition at 6 months and improvements in overall pain and neurological function with use of a PEEK-OPTIMA HA Enhanced interbody fusion device. Other fusion devices based on HA Enhanced PEEK-OPTIMA include:
Innovasis' Ax™ standalone system
Meditech Spine's Talos®
Pinnacle Spine's InFill®
Spineology's Rampart One
Sources: Omnia Medical; ORTHOWORLD Inc.