Two-year study results indicate that use of the Bridge-Enhanced® ACL Repair (BEAR®) procedure from Miach Orthopaedics resulted in similar clinical, functional and patient-reported outcomes as autograft anterior cruciate ligament (ACL) reconstruction. (The supporting human study data can be found here, "Bridge-Enhanced Anterior Cruciate Ligament Repair: Two-Year Results of a First-in-Human Study.")
BEAR is a bio-engineered sponge used as a bridging scaffold to stimulate healing of a torn ACL. Unlike traditional ACL reconstruction, the procedure does not require grafts from healthy parts of the leg.
The BEAR I study also showed that BEAR recipients showed no infection or severe inflammatory response, arthrofibrosis or a reaction that required scaffold removal. Manual and instrumented measures suggest that the stability of the knee after both BEAR and autograft ACL reconstruction may be comparable.
BEAR I was a non-randomized, two-arm study comparing 10 BEAR patients to 10 patients treated with autograft ACL reconstruction. Enrollment of 100 patients is complete for BEAR II, a randomized, blinded trial, and Miach is planning a third study to investigate the effects of patient age on outcomes.
Source: Miach Orthopaedics, Inc.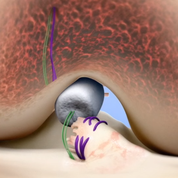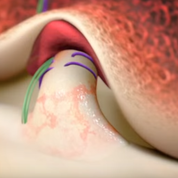 Images courtesy of Miach Orthopaedics