Medtronic announced over 1,000 cases using the Mazor X Stealth Edition™ surgical robot since its commercial launch in early 2019. Mazor X Stealth was designed to promote Medtronic's Surgical Synergy initiatives, which combine implants, navigation, imaging and robotics to offer procedural solutions to treat spinal conditions. Medtronic will expand Mazor X Stealth for additional capabilities and continue to incorporate the system into its workflows.
New product launches from Medtronic include:
SynergyOLIF360SM Single-Position Workflow with Infuse™ Bone Graft - also features O-Arm™ Imaging and Stealth software. Integrated technologies allow the entire oblique lateral interbody fusion to be performed while the patient is on his or her side, without repositioning.
Titan Spine interbody device platforms with FiberCel™ Viable Bone Matrix and nanoLOCK™ Surface Technology
The SynergyCorpectomySM fully-navigated corpectomy system, featuring the new expandable T2 Stratosphere™ implant, Grafton™ Demineralized Bone Matrix DBF and the newly-launched Midas Rex™ MR8 high speed drill. The system is integrated with O-arm and Stealth to enable pre-surgical planning, real-time navigation, virtual sizing of the implant, 3D implant placement visualization and confirmation of implant placement when using a Surgical Synergy workflow. The MR8 drill offers precision and ease of access, and its compatibility with Stealth allows seamless integration with Medtronic's spine technologies.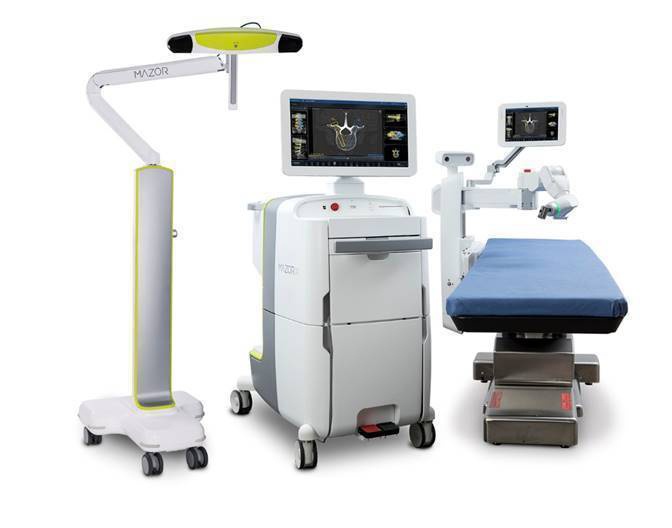 Mazor X Stealth Edition™
Source: Medtronic, Inc.