Maxx Orthopedics announced the successful first surgical procedure employing the Libertas® Hip System.
Available in the U.S., Libertas offers a set of modular bone-preserving implants to support stable restoration of hip biomechanics across a range of patient demographics. They are designed to provide immediate mechanical stability, while longer-term stability is aided by implant surface coatings that facilitate bone integration. Further, the implant shape facilitates a congruent transfer of the weight load and restoration of range of motion.
Libertas comprises cemented and cementless femoral stems, cementless acetabular cups for use with highly crosslinked polyethylene modular liners and either Biolox® delta or cobalt chrome head options, in a range of component sizes.
Maxx Orthopedics is developing a full hip portfolio featuring new options for stems, liners and cups to complement its Freedom® knee system.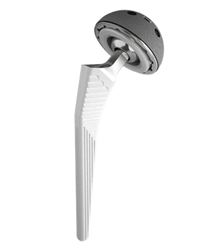 Source: Maxx Orthopedics