What is the last exciting news you recall hearing about DePuy Synthes' knee franchise? Its competitors have dominated both industry news cycles and the market itself. Rajit Kamal, Vice President and Global Knee Franchise Leader at DePuy Synthes, aims to change that through a combination of hardware and technology. There are plenty of challenges ahead, however.
DePuy Synthes' $1.5 billion knee replacement franchise experienced a -1.9% revenue decrease from 2018 to 2019, according to our estimates. The company's struggles in recent years have allowed competitors to exploit implant portfolio gaps and take share. As shown in the exhibit below, DePuy Synthes is the only major player in knee replacement with a downward sales trend from 2016 to 2019.
While DePuy Synthes' Orthotaxy robotic-assisted surgery system remains in development, the robotic systems of Stryker and Zimmer Biomet continued to take hospital placements and drive sales. Additionally, 2019 saw the market entrance of a new competitor in Globus Medical, who brings with them a highly-regarded suite of enabling technology.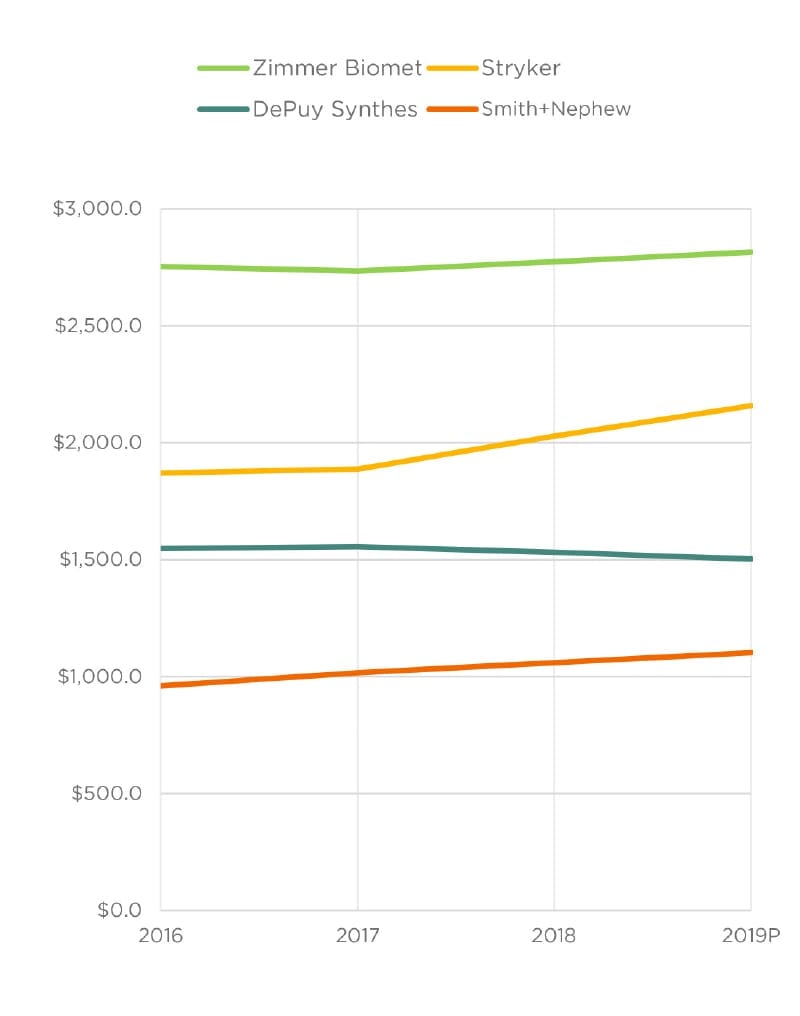 In speaking with Mr. Kamal, he notes that expansions to two product lines—ATTUNE and VELYS—will keep DePuy Synthes competitive.
An Implant Platform for Innovation
In 3Q19, DePuy Synthes plugged a gap in its portfolio with the launch of ATTUNE Cementless. In our discussion with Mr. Kamal, he called DePuy's ATTUNE Knee System their "platform for innovation." ATTUNE Cementless is a step in addressing the clinical needs of a growing patient population that is younger and heavier. "Patients who are below the age of 65 are one of the fastest-growing demographics in total knee replacement," Mr. Kamal said. "They want to be more active. Patients are getting heavier as well; BMI is on the increase."
ATTUNE Cementless is the culmination of lessons learned from the company's LCS Cementless Knee System, as well as proprietary technologies developed in the cemented versions of the ATTUNE primary and revision systems. These technologies include POROCOAT Porous Coating for biologic fixation, ATTUNE GRADIUS Curve to provide stability throughout the range of motion, and GLIDERIGHT Articulation to more accurately replicate the relationship between the patella and femur. Additionally, the system integrates with DePuy Synthes' INTUITION instruments that allow soft tissue balancing and precise control of the implant position for each patient.
ATTUNE has what Mr. Kamal called "the most extensive data of any knee implant in the industry," with over 900,000 implants performed to date since the product's initial launch in 2013. DePuy Synthes features that data on attuneevidence.com to promote the system's survivorship rating and patient outcomes to surgeons and patients.
The VELYS Digital Surgery Ecosystem
DePuy Synthes believes that technology, specifically its VELYS Digital Surgery Ecosystem, will be a critical component to solve today's healthcare challenges: patient satisfaction rates, surgeon burden and cost.
Mr. Kamal described the challenges facing the knee replacement market, pointing out that, although total knee replacement is considered a highly successful procedure, 20% of all patients are ultimately unsatisfied. He said, "There are two million total knee replacement procedures that happen every year around the world. One in five patients said they're not satisfied. That is 400,000 patients who will get a knee replacement with which they're not happy. As an industry, that should be unacceptable. We should completely close that gap. That's our moonshot."
Likewise, surgeons are feeling increased physical and mental burdens as the knee replacement patient population grows. "The number of patients who will need a total knee replacement is going to double in the next 10 years. But the number of new surgeons won't be at the same pace," Mr. Kamal said. "Every surgeon will have to treat more patients. They have a lot of stress. We need to reduce the physical and emotional sting."
DePuy Synthes believes their VELYS system of connected technologies will improve patient satisfaction and empower surgeons through four areas of focus: patient solutions and optimization, surgical planning, surgical implementation and post-op monitoring.
Several of the currently available VELYS components are specific to hip replacement, like the KINCISE automated surgical impactor and JOINTPOINT navigation system. Future innovations, most notably the forthcoming Orthotaxy robotic-assisted surgery system, should be more broadly applicable to joint replacement.
In 2020, DePuy Synthes will pilot technology to communicate with patients before and after surgery, including activity completion and remote incision monitoring using sensors and wearables. The company is also exploring EHR integration to predict patient-specific risks and optimize care pathways. Investing in cost-effective technology to generate 3D models from 2D x-rays and provide predictive analytics on implant placement are also priorities for DePuy Synthes.
Ultimately, VELYS aims to collect data, analyze it and create actionable insights that lead to better outcomes.
Efficient data collection and utilization are crucial for moving digital surgery beyond its current "first generation" limitations. Padraic Obma, M.D., a joint replacement surgeon and co-founder of digital health company Strive Orthopedics, told us in mid-2019, "On some level, we're nothing without our data. Right now, we're in this data accumulation mode. We're not generally able to act on it efficiently yet. Intraoperatively, I'm generating a ton of data. I only get a small sliver of that data. I think industry should make all the data available as part of the medical record rather than trying to protect it. It will help me as a surgeon. If I notice between my trials and final implant that the measurements are off a little bit, I want all the interval data to know where that happened. Where did my flexion gaps get messed up? I don't have that information yet."
Mr. Kamal said that DePuy Synthes is committed to making their technology cost-efficient and portable to accommodate the persistent trend of knee replacements moving to outpatient centers, where physical space and capital are limited. He continued, "I would say somewhere less than 10% of knee replacements currently happen in outpatient centers. But, as Medicare starts reimbursing for total knee replacements in the ASC, I think the floodgates are going to open. We expect more than 60% to 70% of total knee replacements will eventually happen in an outpatient setting. Cost optimization and efficiency are important constraints within which we innovate."
Together these technologies hold promise to provide a more efficient operating room experience for surgeons while giving patients more personalized care. Combined with DePuy Synthes' patient engagement efforts, this could lead to improved surgical outcomes and reduce healthcare costs.
The challenge for DePuy Synthes? Much of the VELYS system's promise is wrapped up in technologies already launched by DePuy Synthes' competitors. Even being generous and assuming that the enabling technologies operate flawlessly once launched, VELYS and its Orthotaxy component face an increasingly crowded landscape where competitors enjoy a head start. Stryker's Mako robotic system, for instance, is reported to have over 800 units in the field.
DePuy Synthes has played the role of orthopedics' sleeping giant these last few years. With projected 2019 orthopedic sales of almost $8.8 billion and as a Johnson & Johnson company, it certainly isn't lacking for resources or infrastructure. It feels like 2020 will be a crucial year for the company's knee franchise. DePuy Synthes' sheer size solidifies its claim to a spot among the top players in the knee market. Will the franchise correct and grow with procedure volume, or continue to slide down the hierarchy?
Mike Evers is ORTHOWORLD's Digital Content Strategist.